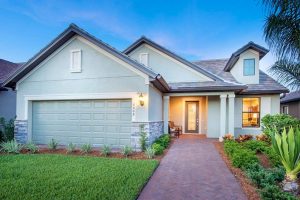 The perfect home can mean different things to different people. Active adults who are retired or are on the brink of retirement may look for certain characteristics that fit their version of the ideal home to accommodate their retirement needs.
Will you move into a condo or single-family home? Will you need to be close to medical facilities or do you want to join a social club? Do you plan on having overnight guests or will you live close to family? All of these questions are important to consider when searching for a home. Retirees should look for a home that will fit their lifestyle, budget, and personal preference. After all, you will probably spend more time in this home than any you've owned before, so you'll want to find the perfect home that's going to meet your retirement needs.
Location
Before you even decide on the retirement home of your dreams, you'll need to consider the location of that home. Where do you see yourself living? Near a beach with ocean views, in an urban area, or close to family in a suburban development? These are all things you'll need to think about before making your move. Consider what you want out of your lifestyle during your retirement years, whether that's staying close to relatives, having easy access to medical facilities, or finding an area with outdoor recreation. Once you've narrowed down your options, you will be one step closer to finding your perfect home.
Home Style
Choosing which home is right for you can be tricky. There are so many styles to choose from including condos, attached villas, and single-family homes. Each style has its pros and cons. Do you feel comfortable living in a multi-unit building with limited privacy and space? Then a condo might be perfect for you. Condos are sometimes less expensive than single-family homes and condo associations take care of all exterior maintenance so you won't have to worry about mowing the lawn or snow shoveling since it's all common space. This allows condo owners to have more freedom where they can pick up and go as they please, called the "lock and leave" lifestyle.
But those who want a bit of privacy and space can opt for an attached villa. Attached villas are typically arranged as quad or duplex configurations. They offer more privacy than a condo with separate entrances and single-level living. Some may also include maintenance-free exteriors, depending on the community. An association fee may include yard care, irrigation, street and light repairs, as well as snow removal.
If you are planning on entertaining friends or having the grandkids spend the night, then you'll need more room to accommodate all your guests. Single-family homes offer the most indoor and outdoor space as well as privacy but come at a higher price. These detached residences provide more freedom for homeowners to do as they please with the property and their home. They can garden whatever they want, host big or small parties in their private backyard, or remodel the home to their liking. Baby Boomers can find many homes designed for their lifestyle with open layouts, one-story living, and wider doorways and hallways.
The downside to some single-family homes is that they tend to require more exterior maintenance like lawn mowing, irrigation, landscaping, etc. And if you're a retiree then you probably don't want to spend your days mowing the lawn anymore. But there is a bright side to buying a single-family home. Some are located within active adult communities that offer the luxury of a single-family home without having to worry about exterior home maintenance. Most of these communities have a homeowners' association that handles lawn mowing, snow shoveling, trash pickup, access to a clubhouse, and common area maintenance.
Amenities
Another factor to consider is amenities. Do you plan to stay active during retirement? Will you join a tennis or golf club or start a completely new hobby? Do you want to be surrounded by other like-minded adults? Baby Boomers who want to remain social should look into active adult communities that cater to retirees by offering an assortment of amenities.
Age-targeted and age-restricted communities like Del Webb – The Woodlands and The Villages provide a vibrant and welcoming atmosphere that keeps its residents busy any day of the week. These lavish developments offer golf, tennis, swimming, pickleball, and much more for homeowners to enjoy. The beauty of living in these communities is that residents always have easy access to amenities. Having so many amenities just a few steps from your home makes staying physically active and socially engaged easy for retirees. It also allows for homeowners to build lifelong friendships with their neighbors.