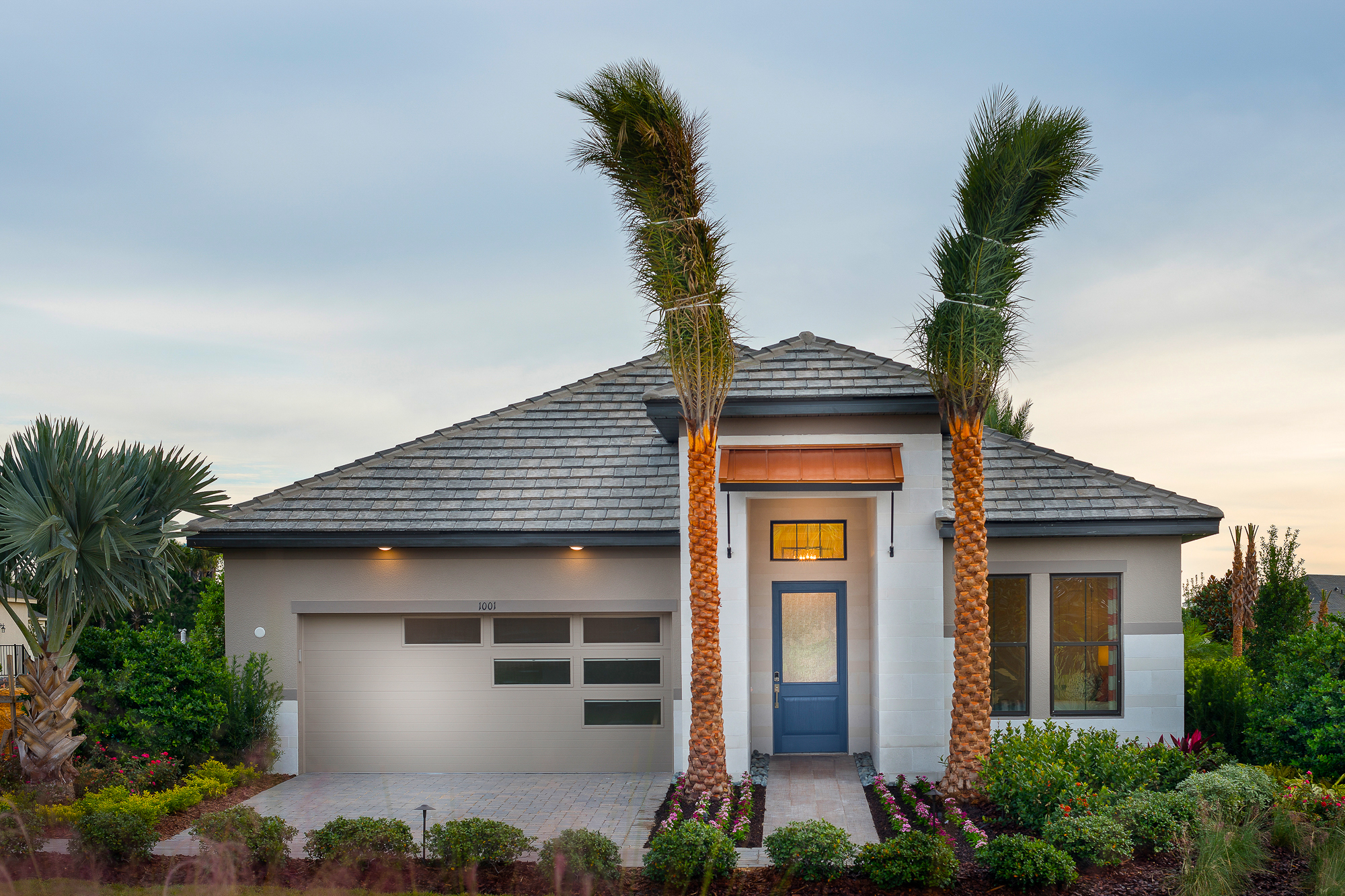 If you haven't heard of the NEXTadventure Home, then get ready for the future of active adult housing. These innovative homes are designed specifically for the active adult homeowner and cater to their lifestyle, needs, and wants. Taylor Morrison, in collaboration with Builder Magazine and numerous designers, interviewed hundreds of active adult homeowners to develop the NEXTadventure Home. Since showcasing this distinct home design to the public at the 2017 International Builders' Show, more homebuyers are scheduling tours to view the NEXTadventure concept home at Esplanade in Highland Ranch in Clermont, Florida.
So what makes a NEXTadventure home stand out from the rest? With all of the gathered interviews and research that Taylor Morrison conducted with focus groups, the builder realized that active adults want spacious homes with integrated indoor and outdoor living areas, tall ceilings, natural light, eco-friendly technology, and plenty of storage space. Taylor Morrison sought to create the NEXTadventure Home to ensure it has the essential elements that support ease of living, organization, and entertainment.
The Perfect Kitchen
At the heart of the NEXTadventure Home is the kitchen, featuring a large island, where most of the socialization and daily living occurs. The home's design has an open living space that combines a main kitchen adjacent to a discrete "messy" kitchen, which allows homeowners to cook while entertaining their guests without having to worry about rushing to clean up afterward. Taylor Morrison also takes the NEXTadventure design up a notch by including an outdoor living room and kitchen. The kitchen setup allows active adults greater flexibility and the ability to create leisurely meals while entertaining friends no matter where they are gathered.
The flexible single-story floor plan of the NEXTadventure Home focuses on bright, open layouts with multi-functional spaces that allow homeowners to accommodate visiting family members and friends, providing enough space for all to gather and socialize. The home offers about 2,268 square feet of living space and has two bedrooms, glass sliding doors, unique storage areas, and an open great room that flows seamlessly into the main kitchen. Homeowners who live with a snorer can rest easier, as the NEXTadventure home comes with a spacious master suite in addition to a second bedroom that can become a snore room.
Flex Space
Flex rooms are also necessary for the downsizing active adult because they want to make sure they have enough space when the grandkids come to visit or provide the option to transform the flex space into a home office, hobby room, or private sanctuary. The difference from other flex rooms and the NEXTadventure flex room is that Taylor Morrison actively demonstrates how certain furniture can work in multiple ways to fit the lives of anyone who tours the home.
The builder displays options at its model concept home that included a swing-out desk for a home office that can be put aside in order to fit a sofa and T.V. for a quiet space. It can also be transformed into a guest bedroom with a Murphy bed that doesn't sacrifice comfort or functionality. With so many options in this flex space, retirees can easily visualize the potential and multiple uses of this room that can accommodate their unique and changing lifestyle.
Beverage Center
Another feature that's incorporated into the design of the NEXTadventure Home is a dedicated beverage center that acts as a wine cabinet, perfect for storing and displaying plenty of wine bottles. Interior design firm Lita Dirks & Co. styled the beverage center with a suspended cabinet with lighting fixtures, tall wine racks, and rocks on the floor, creating a grotto-like effect.
The stunning wine cabinet is prominently displayed just off of the foyer and adjacent to the kitchen and family room where everyone can see it as they walk into the home. It also has a second under-counter refrigerator where homeowners can store soft drinks, beer, and other chilled beverages.
Smart Additions
The NEXTadventure Home also provides plenty of smart features that offer comfort and safety. Throughout the home, owners will find that it is equipped with adaptable lighting, a wireless security system, pet care station, and smart thermostats that are controlled via smartphone. As the needs and wants of Boomers continue to grow and evolve, Taylor Morrison plans to utilize the ideas from its NEXTadventure Home into various upcoming active adult homes and communities. Eventually, homeowners from across the country will get to experience first-hand what a NEXTadventure home is all about.