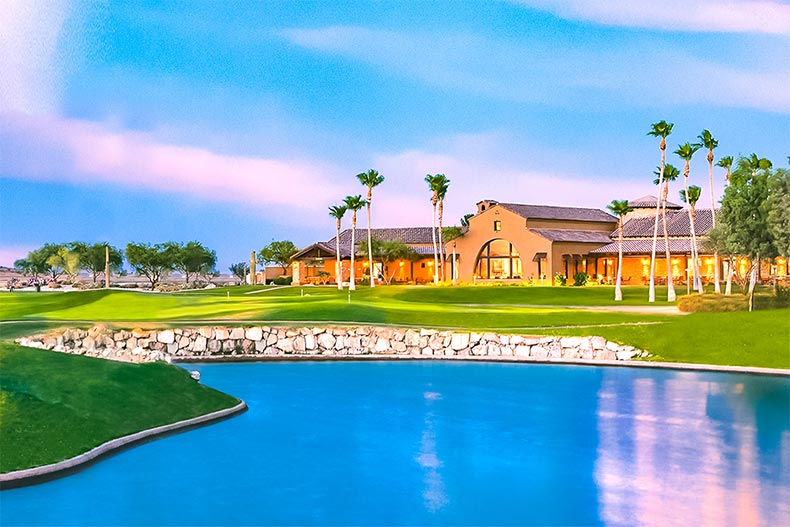 A new home design has been introduced at Robson Ranch - Arizona, and the new model will be the largest of the homes available in this gated community. Robson Ranch is for 55+ active adults, and it's located midway between Tucson and Phoenix in Central Arizona.
New Home Design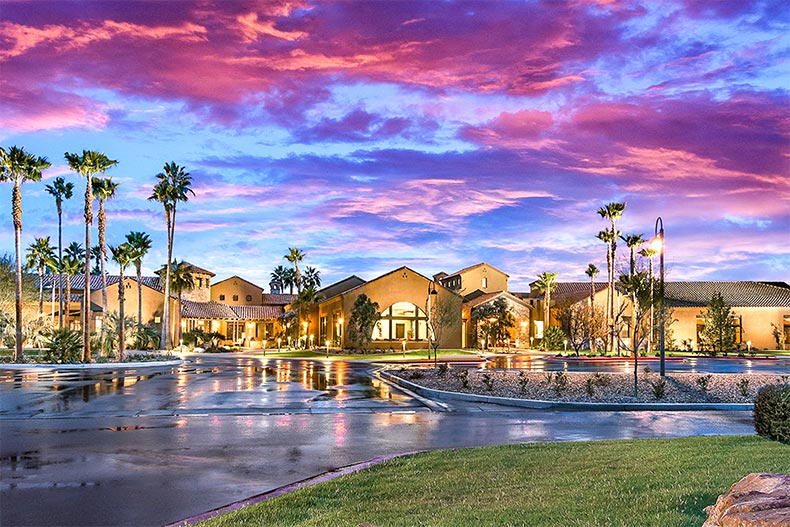 The new design is aimed at buyers who like to entertain and have visitors.
The new Avalon design will provide 2,665 square feet with two bedrooms, a den, two-and-a-half bathrooms, and a three-car garage. Optional extras include a third ensuite bedroom and an additional guest suite with walk-in storage. There are also options to expand the outdoor living space and to expand the laundry. Prices for the basic model start in the low $400s.
The new design is aimed at buyers who like to entertain and have visitors. The integrated kitchen, great room, and dining area contains a gourmet kitchen and a butler's pantry with a walk-in pantry inside.
Location of Robson Ranch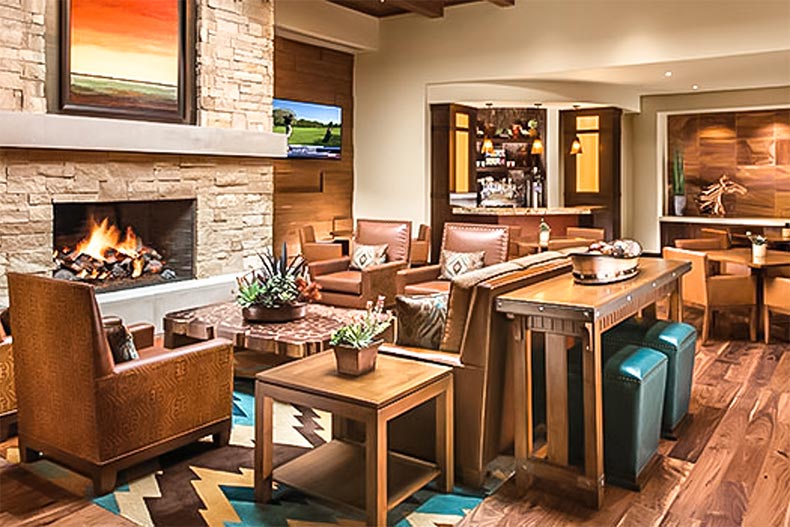 Robson Ranch is a 10-minute drive northwest of the center of Eloy.
Robson Ranch is a 10-minute drive northwest of the center of Eloy, a small city of about 20,000 people in Central Arizona. The community is also located beside Interstate-10, putting both Phoenix and Tucson within easy reach. Tucson is an hour's drive south, and Phoenix is a similar distance to the north. In both cases, I-10 takes you close to the downtown areas. For anyone needing to fly, you can be at Phoenix Sky Harbor International Airport in about 45 minutes.
Resort-Style Amenities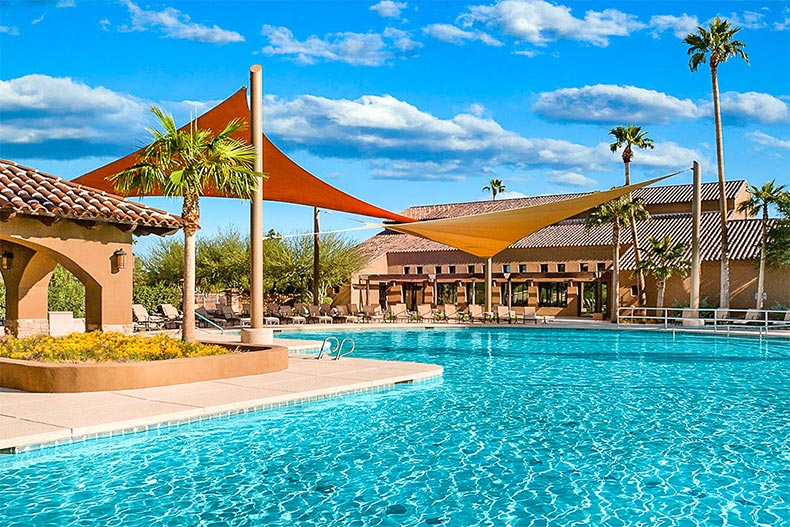 Buyers interested in the new design at Robson Ranch will find that this community of 4,600 attached and single-family homes has numerous amenities for its residents. These include an 18-hole golf course, a softball field, and a sports club which has a fitness center, indoor and outdoor pools, a separate pool for grandkids, tennis courts, and a pickleball complex.
A separate Creative Arts Center has a sewing and crafts room, a woodworking shop, and studios for ceramics and painting. More socializing takes place at the Ranch House, which offers a grill and bar, fireside private dining, a ballroom/auditorium, a billiards room, multipurpose rooms, and a TV lounge/coffee bar.
Active Lifestyle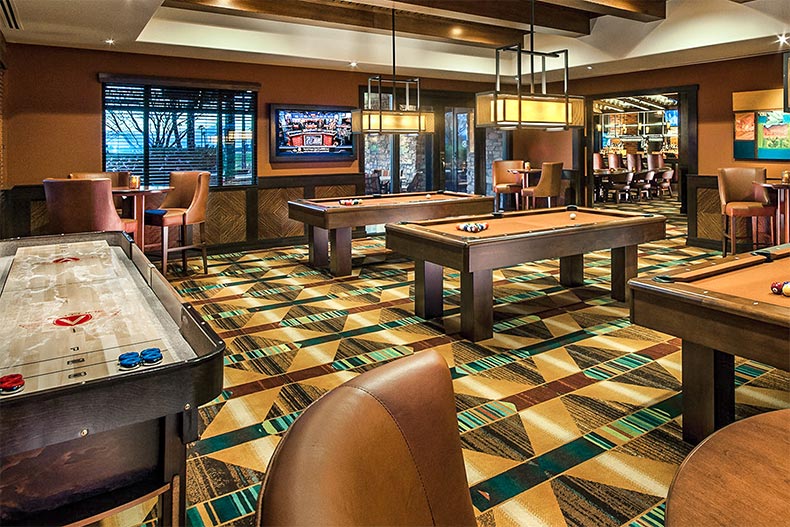 Residents in this community enjoy an active lifestyle with dozens of clubs, classes, groups, and activities to take part in. The activities include such things as aerobics dancing, ballroom dancing, softball, fitness workouts, yoga, Zumba, water aerobics, and hiking. For those interested in crafts there are groups for quilting and sewing, card-making, needle crafting, paper crafting, scrapbooking, pottery and ceramics, and several more. Other activities include clubs for card and board games, singing, learning Spanish, table tennis, cooking demos, and organizing days out.
Smaller Models at Robson Ranch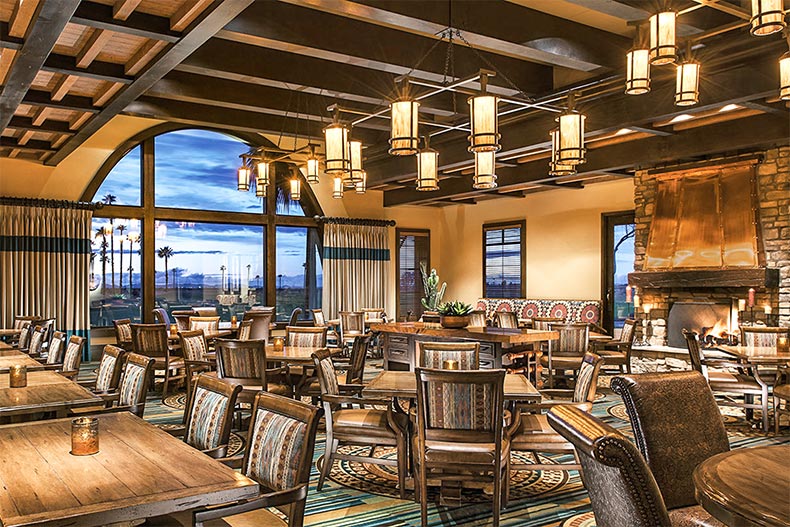 There are plenty of smaller home models available here too.
If the new Avalon models are too large, there are plenty of smaller models available here too. The smallest of all is the Capri model, a home of 1,236 square feet with two bedrooms, two bathrooms, and a garage big enough for one car and a golf cart. Some Capri models also have a den.