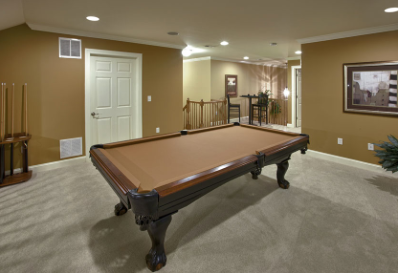 When it comes to buying a home for retirement, many homebuyers prefer main-level living. This often leads to choosing ranch-style single-family homes, one-level attached homes, or condos. However, homes with second-story lofts open up the possibility of enjoying main-level living as well as additional space which can be used in a variety of ways.
Accessibility
While main-level living may provide convenience and limit the need to climb stairs throughout the day, there are several reasons why it might be nice to have living areas that are separated from the rest of the house.
Moving home offices and craft rooms to a second floor may make them a quieter place to work away from distractions. If you prefer to keep these frequently-used areas on the main level, moving a guest bedroom to the upper level will free up more first floor space.
Privacy
Having a guest suite on another floor provides more privacy as well, both for your guests and for you in your first-floor master bedroom. Depending on the style of your home, you may use a second-story loft in a number of different ways.
A loft can be a great place to put a home office, a hobby room, an exercise area, a TV room, or even a playroom for visiting grandchildren. It can also work as a great, out-of-the-way storage area, and some floor plans include specifically designed storage rooms as a portion of the upper level.
Design Options
There are many different designs available for homes with second-story lofts. The upper level may cover only a portion of the main floor or it may span the whole space. The loft may be a simple, open area or have fully enclosed rooms. Larger second-story lofts may feature a combination of open area, storage closets, guest bedrooms, and bathrooms.
When buying a new construction home, optional full bathrooms are typically a useful addition to a second-story loft. A bathroom adds privacy and convenience to a guest suite. You will also appreciate having a bathroom near a home office, craft room, exercise room, or playroom.
If your floor plan only offers a small open space or a loft storage area, adding an optional bathroom may not be as important. However, additional bathrooms do usually add value to your home and they are often harder to install after the house is complete.
Second-story lofts add versatility to the convenience of main-level living. They can be a great way for active adults to find a low-maintenance home that still has space for guests, hobbies or a home office.