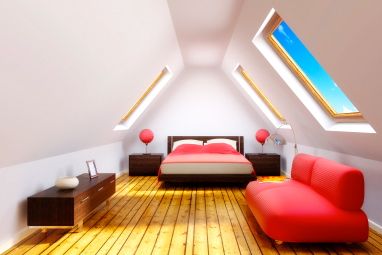 Low-maintenance homes are often a key selling point in 55+ communities. By choosing low-maintenance single-story homes, active adults free up more of their time to enjoy social activities and recreation. On-level living is also easier on the body, since homeowners are saved the hassle of running up and down stairs daily. Despite the demand for ranch homes, second-story lofts have been gaining popularity in active adult communities.
The Benefits of a Second-Story Loft
There are many reasons why second-story lofts make sense in active adult communities. This additional space adds functionality to a house. It is often much cheaper than other options, such as adding a basement. Homes with second-story lofts generally still feature main level living. The master bedroom suite is on the first floor, as are the common rooms such as the kitchen, dining room, den, and second bedroom. The second-story loft space is often designed to be an addition to the main home, bringing functionality even if the loft doesn't get daily use.
Second-story lofts can vary greatly from one home to another. Some lofts are open multipurpose spaces, which may overlook a great room below. Other lofts include an additional bedroom, or even a bedroom and bathroom. For example, at Sun City Carolina Lakes in North Carolina, some floor plans allow for an optional second-story loft which includes a bedroom, full bathroom, and recreational space. While most homeowners enjoy having their own bedroom on the main level, a second-story bedroom and bath can be an ideal guest suite. This arrangement is perfect for visiting family or friends. The space is somewhat separated from the rest of the home, giving both homeowners and their guests plenty of privacy. A second-story loft can also be used for convenient storage, particularly in homes that do not have basements. A loft of any size can be easily outfitted with shelves and storage cabinets to keep a variety of belongings safe and well organized.
For some homeowners, loft space provides a great place for hobbies. Lofts can be used for sewing rooms, craft rooms, or as a spacious home for a model train village. There's no end to the possibilities. The loft space can also be a great location for a comfortable home office.
Just a few of the great active adult communities which include homes with optional second-story lofts include Potomac Green in Ashburn, Virginia; River Pointe in Manchester, New Jersey; Village of Long Creek in Newark, Delaware; Ardiente in North Las Vegas, Nevada; and Villa Trieste in Oceanside, California.