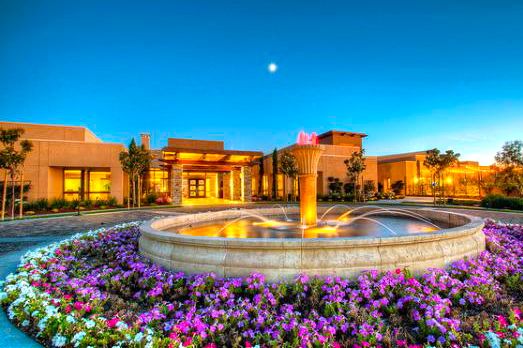 Since 1999, Trilogy by Shea Homes has impressed active adult homebuyers with their resort-style communities that are brimming with amenities and luxurious homes. Shea Homes' unique approach to developing 55+ neighborhoods has led them to several awards including a J.D. Power Customer Service Champion in 2012 and a collection of Best of Houzz awards for their design and customer service.
Shea Homes begins the new year with another prestigious award for their crowded mantelpiece: Lifestory Research 2016 America's Most Trusted™ Active Adult Resort Builder. This is the fourth consecutive year that Trilogy by Shea Homes has walked away with this award.
Lifestory Research determines the award by narrowing down the top 27 housing markets in the country and surveying customers of the active adult brands operating in these markets. To qualify, the builders had to rank among the top home builders in the country and offer housing specifically for active adults in multiple locations. The builder's customers were asked about their fundamental perspective on that particular brand and the degree of trust they feel towards the developer.
Trilogy by Shea Homes currently operates in some of the most competitive housing markets in the country, including popular active adult destinations like Arizona, California, Florida, Nevada, and North Carolina. No matter where they set up shop, the Trilogy brand stands out among the crowd for taking the fundamentals of active adult communities and adding their unique take, creating a truly distinctive lifestyle in each community.
Trilogy's communities are centered around three basic principles: connection, wellness, and exploration. Connection begins in the home, with open floor plans and spaces that maximize social interactions, making them natural spaces for hosting parties with friends and neighbors. Modern clubhouses beckon residents, providing areas for casual conversation or to enjoy a game of billiards, low-key movie night, or a BBQ during the summer months.
Wellness is integral to a balanced lifestyle, and Trilogy communities provide excellent amenities to realize that. Trilogy communities boast some of the most modern and well-equipped fitness centers with cardiovascular and weight-training machines. Most Trilogy communities also have aerobics studios as well as indoor and outdoor pools to meet any fitness regimen. Trilogy communities consistently offer spas for relaxing sore muscles after a workout.
Shea Homes also realizes that physical and mental fitness are vital for a truly active lifestyle, which is why several of them offer classrooms. Trilogy at Redmond Ridge, for instance, partners with the University of Washington to offer continuing education courses and Trilogy Lake Norman will offer classrooms. Book clubs, art classes, and activities like chess are regular staples in Trilogy communities.
Most Trilogy communities are strategically located to allow for outdoor exploration. Trilogy at Tehaleh features over ten miles of beautiful hiking trails, while some of their communities in Florida and California have expansive natural spaces, beautiful ponds, and a few are even at the foot of mountain ranges.
For residents of Shea Homes' Trilogy communities, exploration extends to new hobbies and intellectual pursuits as well, which is why Trilogy communities offer incredible activities that range from travel club to photography to paddleboarding.
Residents also love Trilogy's active adult communities because of the homes themselves. Many of them feature energy-efficient construction thanks to the SheaXero options, while new construction homes are highly customizable to suit any need or style. Modern flairs like outdoor living spaces, flex rooms, floor-to-ceiling windows, and open floor plans make Trilogy's homes not only functional, but also sleek and stylish.
Trilogy residents not only trust Shea Homes for their quality construction with a modern twist, but to also provide the lifestyle that active adults crave through connection, wellness, and exploration.