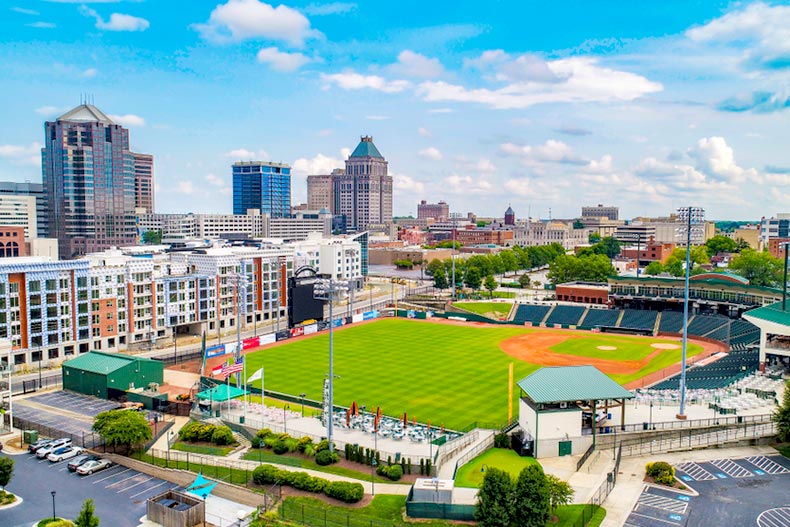 Conveniently located off of two of North Carolina's major highways—I85 and I40—the mid-sized city of Greensboro offers an ideal location for active adults looking to settle down within easy access of the interstate as well as an international airport. Greensboro is also located just a short drive away from Charlotte as well as larger cities in the Triangle Area and popular smaller towns like Winston-Salem, Lexington, High Point, and Asheboro.
The city also offers a wide array of cultural amenities that range from the International Civil Rights Center & Museum and Greensboro Science Center to the Guilford Courthouse National Military Park and Weatherspoon Art Museum. There's also a large variety of local eateries, coffee shops, and bakeries for residents to visit as well as local shops and boutiques.
There are several active adult communities in the area, and a number have homes available for around $200K. Here are some excellent options.
Guilford Crossing
Originally built in 2001 by Bostic Construction, Greensboro's Guilford Crossing is a small, tight-knit community made up of 48 condominiums that are available as resale-only. Price points for the age-restricted development start in the low $100s and increase to the low $200s, making it a great option for active adults looking for something around $200K in the Greensboro area.
The condos on the property are spread throughout three-story buildings that each have elevator access and adjacent parking lots. There are two floor plans—the Kingston and Princeton—that range from 1,225 to 1,483 square feet. While they vary in size, each plan offers two bedrooms, two bathrooms, and a den.
Guildford Crossing offers residents several amenities, including an exercise room with both cardio and weight lifting equipment, a clubhouse, a multi-purpose room, a lounge, and a catering kitchen. Outdoor amenities include a walking path, scenic lakes and ponds, a patio, and community gardening plots for residents to use.
The Villas at Deep River Run
The Villas at Deep River Run is another community in the Greensboro area with townhomes available for $200K or less. It was originally built in 2008 by Epcon Communities and features 112 resale-only townhomes.
Each of the development's buildings plays host to four units. There are six floor plans that range from 1,400 to 1,900 square feet with two to three bedrooms, two to two-and-a-half bathrooms, and two- to two-and-a-half-car garages. Most of the development's plans offer main-level living, but there are a few options that allow for an upstairs loft or lower level. Some of the larger units' floor plans also include the option of a den.
Amenities within The Villas at Deep Run River include a clubhouse, a multi-purpose room, a catering kitchen, billiards, a library, and computers. Between the community's exercise room and the heated outdoor pool, staying fit and keeping active is a breeze for residents. Additionally, there's an outdoor patio and grill for homeowners to enjoy. Along with the neighborhood's amenities, there are plenty of activities, organized clubs, and events that cover a wide variety of interests, including billiards, bowling, and water aerobics.
Villas at Sedgefield
Built by Epcon Communities in 2005, Villas at Sedgefield is another attached home community. It's comprised of 102 townhomes that are available as both new construction and resale. The most affordable homes in the community are priced around $200K.
There are five floor plans for the single-story townhomes that vary in size from 1,516 to 1,994 square feet. Plans offer two to three bedrooms, two bathrooms, and two-and-a-half car garages. Dens are included in a number of the plans. Each townhome also offers homeowners low-maintenance exteriors and private patios for entertaining.
Villas at Sedgefield offers several amenities such as a clubhouse, a multi-purpose room, a catering kitchen, billiards, and an exercise room. Outdoors, residents will find a heated pool, a patio, a scenic pond, and walking trails spread throughout the property. Active adults will also enjoy the community's long list of organized clubs and social events, which include the Annual Battle of the Bowls, brunches, charity events, dinner trips to local restaurants, and wine and cheese socials.