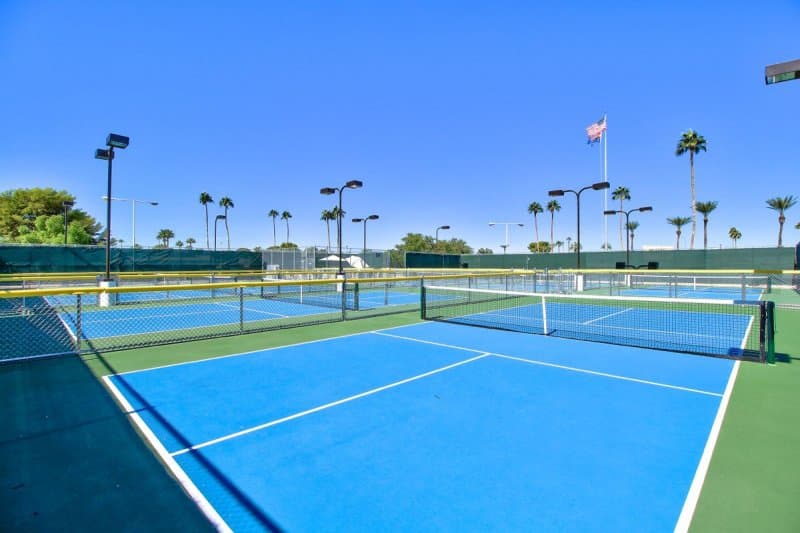 Baby boomers flock to active adult communities because they provide vibrant and exciting lifestyles within a welcoming and social atmosphere. Residents living in these retirement communities are encouraged to participate in unique activities, clubs, and special interest groups where they can socialize and mingle with their neighbors as well as explore new hobbies that spark their interest. Some communities stand out from the crowd by offering countless amenities, multiple clubhouses, hundreds of social clubs, special events, activities, and endless options for recreational enjoyment.
The team at 55places.com has visited each community and toured the grounds to see just how active residents are in these communities. From vast indoor amenities to never-ending outdoor recreational facilities, there is never a boring moment in these impressive active adult communities. Although it was difficult to narrow down, here is our list of the 20 most active communities in the country, listed in no particular order.
The Villages spans three counties, three zip codes, and more than 20,000 acres, so it's no surprise that this massive active adult community offers countless amenities and about 1,000 clubs and groups. From art league and badminton to karaoke and swing dancing, there is never a dull moment and each day is never the same. With so many options to choose from, residents living in this exciting retirement community can meet new people or pick up a new hobby any day of the week.
As the first 55+ community in the country, Sun City practically designed the blueprint for what active adult communities would become, setting the standard for the amenities and lifestyle offerings of future 55+ communities. Sun City offers a long list of indoor and outdoor amenities sprawled across its landscape, making it convenient for residents to have access to a pool, clubhouse, restaurant, or golf course. It has an estimated 200 clubs and organized groups that represent nearly every interest imaginable. Retirees can play water volleyball in the morning, take a dip in the pool after lunch, and end the day by going dancing with the Sun City singles dance club.
Baby boomers can spend their golden years enjoying the Southern California sun while living in Laguna Woods Village. This 55+ community is the largest on the West Coast and boasts seven clubhouses, 36 holes of golf, five swimming pools, an equestrian center, and more than 250 clubs and social groups. Laguna Woods Village's social calendar caters to every lifestyle and interest by offering sports and fitness activities like aerobics or bocce. The community also hosts special events and activities like movies on the lawn and a drumming circle.
Green Valley in Arizona is a conglomerate of active adult communities where homeowners have access to all of the amenities found within Green Valley Recreation. This massive recreational development provides 13 recreation centers, 13 swimming pools, eight championship golf courses, numerous sports courts, social areas, and miles of walking and biking trails. Green Valley Recreation offers a well-rounded and robust lineup of activities, clubs, and events that keep homeowners active, social, and healthy. From ladies bridge and ceramics group to tap dancers and racquetball, residents are always staying busy in this vibrant active adult environment.
Located in the heart of Central Florida and with a planned 10,000 homes once complete, On Top of the World is a rich and vibrant active adult community. Retirees are drawn to this age-restricted development because of its renowned world-class amenities as well as its 200 clubs and interest groups. Homeowners can plan their day by attending happy hour with friends, playing a game of bocce or golf, joining the red hatters club, or exploring the surrounding areas on day trips.
This Del Webb active adult community is carved into the Texas Hill Country and boasts a scenic location that combines small town charm along with beautiful homes and resort-style amenities. Sun City Texas offers retirees a vibrant social atmosphere with numerous clubs and activities that cater to all interests. Active adults can easily find something they are passionate about or they can explore a new hobby like photography, ballroom dancing, Zumba, or tennis. An on-site activities director makes it easy for residents to mingle and meet new people. The community also hosts special events such as movie nights, seminars, support groups, volunteer opportunities, and holiday parties that bring all homeowners together in a friendly and welcoming setting.
Although this established active adult community was developed decades ago, Rossmoor is still a lively community that continuously holds fun events, clubs, and activities throughout the year. Boomers enjoy playing 27 holes of golf, crafting their own masterpiece in art group, or hanging out with fellow travelers in the roadrunners RV club. With over 200 social clubs and interest groups to choose from, residents will have no problem staying active or socially engaged while living in this active adult community in the Bay Area.
Offering a great combination of world-class amenities, quality home designs, and a vibrant social lifestyle, Robson Ranch is an ideal retirement destination for active adults. With a luxurious 17,500 square-foot clubhouse, state-of-the-art sports club, and an 18-hole golf course, residents will never get tired of doing the same activity twice. Robson Ranch offers more than 60 clubs and special interest groups that range from fitness-related activities like Pilates, Zumba and tai chi to social groups like genealogy club, woodworkers, dog club, and shutter bugs.
There is more action happening in this age-restricted community than on the Las Vegas Strip. The long list of clubs and activities offered in Sun City Summerlin means residents are constantly busy having fun and being socially engaged. The community hosts a generous lineup of amenities, social activities, and golf courses as well as unique clubs like model builders, chamber music, and folk ethnic dancing.
Nestled at the base of the Santa Catalina Mountains and providing scenic views of the landscape, SaddleBrooke is a thriving active adult community in Tucson, AZ. The community has several large clubhouses with an array of award-winning resort-style amenities as well as a social environment unlike any other. SaddleBrooke has more than 100 clubs, leagues, and interest groups that cater to a variety of passions, hobbies, and lifestyles.
Residents can join fun clubs like the singles club, British club, men's bridge, or knitting group. Neighbors can also mingle and meet new people by attending events and groups like dessert and discussion, care and share, neighbors helping neighbors, German-American friendship group, or metaphysical study group. With so many options to choose from, Boomers are sure to keep their social calendars full every week.
Check out the rest of our top-ranking, 55+ communities with ample opportunities for active adults.