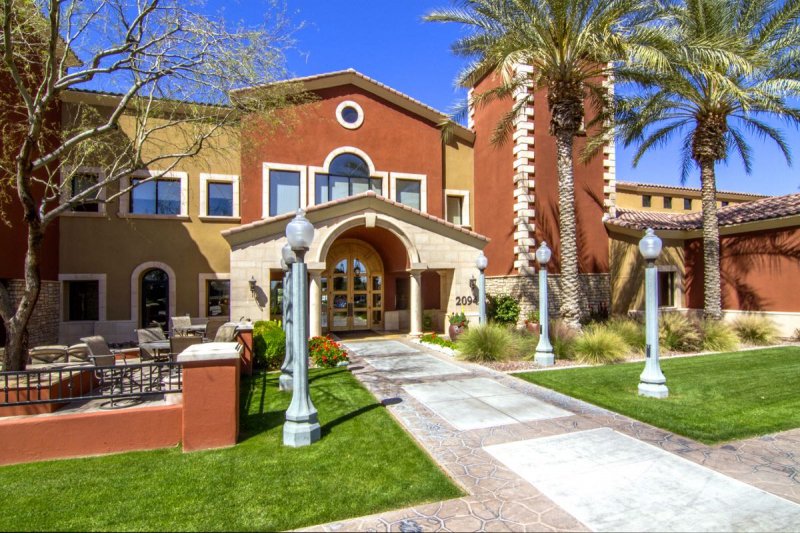 Active adults looking for a wealth of recreation at an affordable price will have a blast at Province in Maricopa, AZ. The community's Village Center, surrounded by a beautiful 50-acre lake, serves as a hub for sport, fitness, learning, and expression. With new constructions and resale homes available in a wide range of styles, you won't have trouble finding the right abode. Even more exciting developments are on the way as Meritage Homes breathes new life into this community.
Residences
Engle Homes began construction of Province in 2004, and by 2006 it was voted best active adult community in the U.S. by the National Association of Home Builders. After building approximately 800 homes, Province was acquired by Meritage Homes in 2009. Meritage promptly introduced the Verdana, Vista, and Pinnacle Collections that offer spacious models for those who like to host parties as well as cozier homes for a quiet retirement.
These homes come with two or three bedrooms, two bathrooms, and an attached two-car garage, with a three-car option available. New properties are built with extra attention paid to energy efficiency by offering green energy building packages and solar power systems. Meritage's single-family homes offer a wide range of options, from 1,690 to 2,439 square feet and are set up with ENERGY STAR appliances and water-efficient fixtures to keep the utility bill low.
The Engle models, available as resale options, offer a great value and range in size from 1,487 to 2,830 square feet. The Villa duplex homes are designed for easy maintenance. All appliances are ready for you when you first walk in the door, giving you more time to enjoy the view from your back patio. The Estates and Tradition collections make up the higher-end Engle resales. These come with ample living space, two to four bedrooms plus a den, and some models even have their own private pools.
Amenities
Amenities at Province are tough to beat. The 32,000-square-foot clubhouse boasts several art studios, an aerobics & dance studio, a ballroom, library, billiards tables, a fitness center, and a cafe. Outside, residents soak up the Arizona sun at the resort-style pool, compete on the tennis, bocce, shuffleboard, pickleball, and basketball courts, and enjoy some time alone on the walking trails that weave throughout 125 acres of parks and natural space.
Province offers a host of clubs and activities to fill any socialite's schedule. While some communities cater to a few interests, Province has something for the athletes, intellectuals, and artists alike. Join the book club or take a theater class. Sign up for target shooting or join the poker group. Whether you want to spend an afternoon on your bike or learning to paint with watercolor, you'll find a fulfilling lifestyle at Province.
Growing Popularity
If you've been considering a move to Maricopa, you're not alone. The area experienced a period of hyper-growth at the turn of the century, starting with a population of 1,040 residents in 2000 and ballooning to 43,482 people by 2010. Warm temperatures and wide open space drew thousands from all over the country to Maricopa, and there's still room for more.
Surrounding Area
As one of the most well-established communities in Arizona, Maricopa celebrates its rich cultural history while embracing modern amenities. For a day out, the Ak-Chin Indian Community features the Him-Dak Museum, home to tons of artifacts like pottery stone tools, projectiles, some jewelry, carved animal bones, and baskets.
For a night out, there's Harrah's Ak-Chin Hotel and Casino, complete with slot machines, bingo, live entertainment, and dining. For the outdoor enthusiasts, the nearby Sonoran Desert National Park contains a saguaro cactus forest, three distinct mountain ranges, and many significant archaeological and historic sites. Province residents find that Phoenix and the nearby suburbs offer anything that they can't find in Maricopa, whether it's a specialty restaurant, live entertainment, or a night out in the city.
They don't have to travel for a good time, though. One resident described Province as "Disneyland for adults," and with a world-class clubhouse, miles of greenbelts, and a community of fun-loving neighbors, Province earns its high praise as a great place to call home.