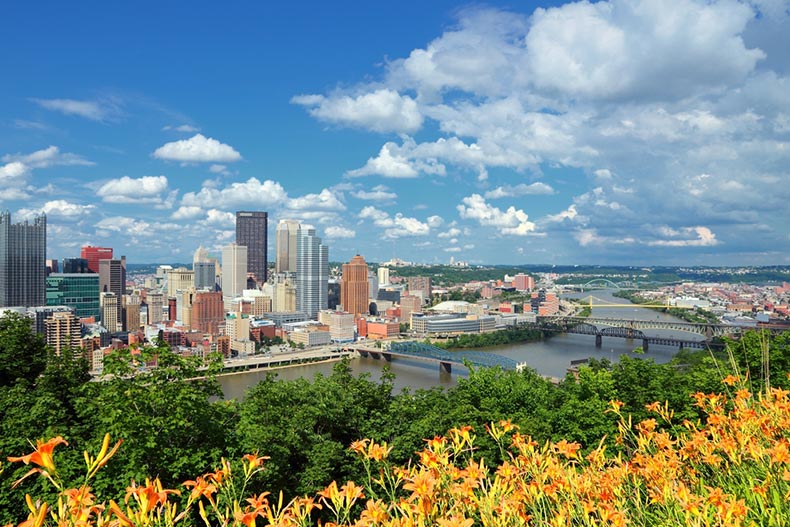 The Pittsburgh area keeps getting more and more attractive for active adult homebuyers. At last count, 55places.com had 16 communities listed. With the imminent opening of Traditions of America Southpointe, this count goes up by one, and now may be the time to get in on a very good thing.
Traditions of America
As a nationally recognized builder of active adult communities, Traditions of America is known for its quality construction, customizable floor plans, state-of-the-art community clubhouses, and full activity and event schedules managed by their on-site Lifestyle Directors. These properties are made for low-maintenance lifestyles and resort-style atmospheres. Homeowners enjoy on-site tennis courts, fitness facilities, swimming pools, and outdoor walking and biking trails.
Coming Soon to Canonsburg, Pennsylvania
Southpointe will be Traditions of America's fourth development in this region, and the property is located in Canonsburg, about 15 miles southwest of Downtown Pittsburgh in Washington County, PA. Canonsburg's history dates back to the late 18th century (named after Colonel John Canon), and its population hovers at around 8,800. Southpointe is in a less-developed area surrounded by several creeks and picturesque natural space.
Outdoor lovers can also take advantage of the fact that Southpointe is close to many exceptional outdoor recreation areas and golf courses. Canonsburg Town Park has a pool, pavilions, a playground, and hosts special events like concerts and festivals. Canonsburg's city center is also the site for annual celebrations like Oktoberfest, Christmas festivities, and a popular Fourth of July parade and fireworks display. The Southpointe Golf Club and Lindenwood Golf Club are just two of the many regional golf courses (less than five miles away), and they're both highly rated.
Living Near Pittsburgh
There's a lot to be said for being close to—but not too close to—a large city like Pittsburgh. You can drive into town and explore the attractions, savor a delicious meal, and drive home to the peace and quiet. The city has too many attractions to list here, but here are three that deserve special mention:
Frick Art & Historical Center - Located in the Point Breeze neighborhood, this museum includes pieces by famous artists like Claude Monet, historic cars, and the elegant Frick mansion.
Pittsburgh Zoo & PPG Aquarium - This is a great way to spend the day, and your grandchildren will love it too. There are five habitats, an educational center, and special events like holiday celebrations and wine tastings.
The Andy Warhol Museum - Warhol was born in Pittsburgh, and the world's largest collection of his art is inside this museum.
Living in Canonsburg
Conveniently located, top-performing medical organizations are an important consideration for any homebuyer, and Canonsburg has more than its share in this department. There's always the option of driving into Pittsburgh for the University of Pittsburgh Medical Center (UPMC), but closer facilities include Canonsburg Hospital and West Penn Allegheny Health.
Running errands is easy for Southpointe homeowners; there's a Walmart 10 miles north plus a large shopping center less than two miles to the south. At the latter, you can find a Giant Eagle Supermarket, a TJ Maxx, pharmacies, a Starbucks, and plenty of restaurants. The Little Lake Theatre Company is also nearby, and there are several movie theaters as well.
Traditions of America at Southpointe is holding a VIP Sales Event on Wednesday, November 13th. If you would like to attend, click here for more information.