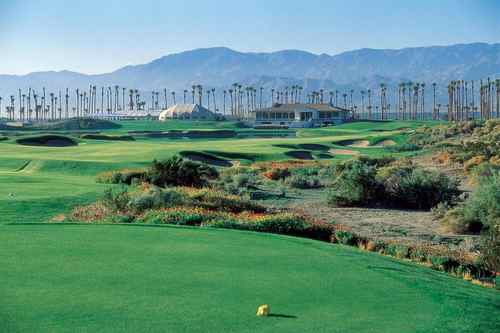 Terra Lago may not have an age restriction, but the numerous amenities in this Tuscan-themed community are sure to appeal to active adults. Opened in 2005, this spectacular development also features a prime location in the heart of the Coachella Valley. Just a few of the highlights at Terra Lago include 36 holes of golf, a 20-acre lake and a 10,000 square-foot clubhouse.
For active adults who prefer to live in a child-friendly environment, Terra Lago provides a gorgeous setting, thoughtfully-designed homes and an exciting line-up of amenities and recreational activities. Although residents of all ages are welcome at Terra Lago, the community has developed with a quiet setting and relaxed atmosphere.
At the heart of the community, Terra Lago's spacious clubhouse features facilities which support an active adult lifestyle. There are multipurpose meeting rooms, a fully-equipped fitness center and game rooms for cards and billiards. The community also contains an on-site restaurant, outdoor swimming pools and a playground which is perfect for visiting grandkids. Resident golfers will appreciate the unique style of the Golf Club at Terra Lago.
The club features 36 holes of challenging golf which undulate over the varying elevations of Indio's Chocolate Mountain foothills. Many outdoor enthusiasts will also be drawn to the 20-acre lake, which has small-boat access, and the miles of winding walking and biking trails. When it comes to real estate, Terra Lago is comprised of five distinct neighborhoods with homes which have been designed by four different developers: Ashbrook, Lennar Homes, Ryland Homes, and Woodside Homes.
Many of the homes throughout the community include features which appeal to mature homebuyers, such as first-floor master bedroom suites and open layouts. Upon completion, Terra Lago is expected to contain 1,200 single-family and attached homes. Terra Lago's Marquesa and Cordoba neighborhoods were built by Lennar Homes with single-family homes ranging from 2,092 to 3,142 square feet.
In the Cristallo neighborhood, by Ryland Homes, homebuyers will find one- and two-story homes with layouts that range from 1,987 to 2,459 square feet. Many of the homes in Cristallo also feature views of the golf course or lake. Single-family homes and townhomes in the Lido neighborhood are built along the lake by Ashbrook. Their floor plans range from 2,132 to 2,655 square feet.
The Portofino neighborhood, built by Woodside homes, also has some homes set on the lake. Its one- and two-story single-family homes feature layouts ranging from 1,637 to 2,393 square feet. Active adults looking for a home in the Indio area won't want to miss the fabulous amenities and tranquil beauty of Terra Lago.
For more information on this community click here: Terra Lago - Indio, CA