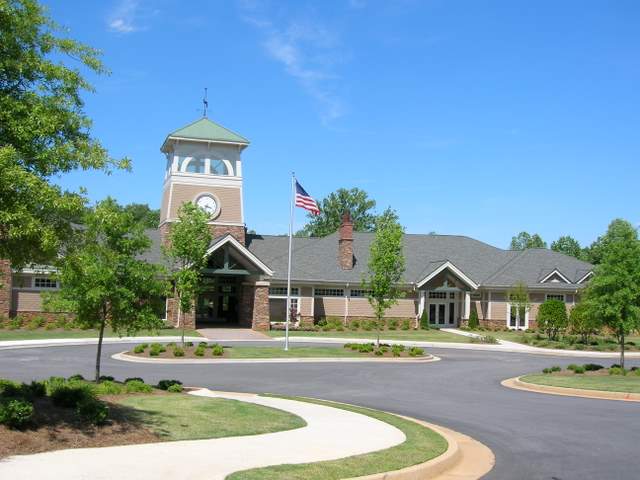 This summer, Village at Deaton Creek near Atlanta will be celebrating its fifth anniversary. In just five short years, this beautiful Del Webb community has certainly gotten off to a great start. Within its gates, there are resort-style amenities, fun community events, and thoughtfully designed homes. The community's surrounding areas includes mountain vistas, local shopping, quality healthcare, cultural attractions, and much more.
Location
Retirees who relocate to Georgia are often attracted by the state's gorgeous climate and picturesque surroundings. Village at Deaton Creek is nestled in the southern foothills of the Blue Ridge Mountains and is only 40 miles from Atlanta. This prime location makes it very easy for the residents of Village at Deaton Creek to enjoy a wide range of both rural and urban recreations.
Close to home, community residents will find major grocery stores such as Publix and Kroger as well as large retail centers like the Mall of Georgia, which boasts over 200 stores and restaurants. The Hoschton area also offers movie theaters, parks and recreation centers, challenging golf courses, and quality healthcare.
Lee Johnson, a local real estate expert who also lives in the Village at Deaton Creek community, appreciates the benefits of having quality healthcare close to home. "We are so pleased to have Medical Plaza 1 outside the Deaton Creek entrance," she tells us. "Currently there are 23 physician offices with 21 different specialties and a pharmacy. Other physicians come to the facility each week from North Georgia Medical Center in Gainesville."
Amenities
Within the community, Village at Deaton Creek offers a wide range of amenities and social activities. The Club at Deaton Creek is a beautifully appointed, 35,000-square-foot clubhouse. Here, residents enjoy resort-style amenities including an updated fitness center, grand ballroom, hobby and game rooms, demonstration kitchen, and a library with Wall Street room. The clubhouse offers both an indoor lap pool and an outdoor pool with beach entry, while a softball field and a variety of sports courts support several active recreations.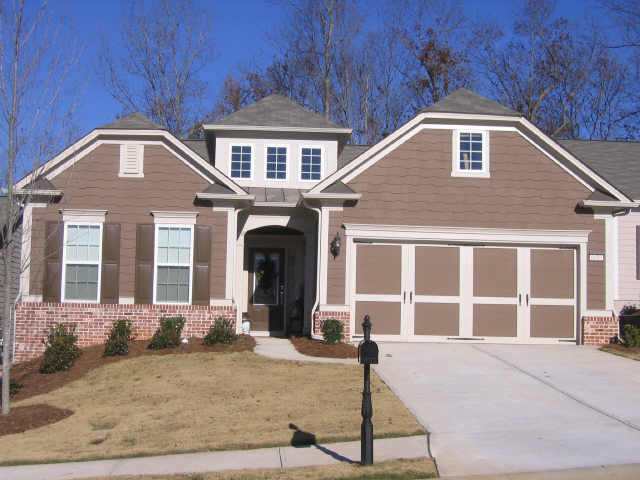 Del Webb combined years of experience to tailor their homes with the latest desirable layouts and design features craved by active adult buyers.
When it comes to socializing, the Village at Deaton Creek calendar is filled with classes, activities, and club meetings. Special community events are also planned each month, such as June's Jimmy Buffet Tribute celebration and an appearance by The Mentalist. "Other social events are planned by our awesome Lifestyle Director, Mark LaClaire," Lee explains. "Mark keeps us all busy with his high energy and well-planned events."
Homes & Real Estate
Both duplex villas and detached single-family homes are found within the Village at Deaton Creek community. The villas have been built-out and are now only available as resale homes. The community offers a total of 18 single-family floor plans, including four with loft options and two with three-car garages.
As a real estate agent who is also a Village at Deaton Creek resident, Lee is in a unique position to share her thoughts about the community. "I live the Deaton Creek Lifestyle with my husband and little Maltese doggie named Reggie," she tells us. "We have been here since September 2007, near the beginning. It has been a phenomenal experience to see the community grow and for me to meet so many wonderful people from all over. It is hard to explain what a fabulous opportunity I have when I can share with prospective buyers what we experience each day."
Active adults who choose to live in Village at Deaton Creek enjoy Georgia's sunny climate and scenic beauty, close proximity to urban attractions, and its wealth of community amenities. With so much to offer, this fresh, young community is sure to be celebrating many more happy anniversaries in the years to come.