7 minute read
When it comes to retiring in warm parts of the U.S., Florida's coastal regions seem to get all of the attention. But living in Central Florida can be even more advantageous for those hoping to relocate to this part of the country.
55+ home seekers who have their hearts set on the Sunshine State may now be holding back because of climate concerns, but it's important to realize that the middle part of the state has less risk for major hurricane and flood impacts. It also has more than its share of natural beauty, fewer crowds, and a wide selection of active adult communities worth exploring. And best of all, the weather here is just as alluring as it is further south.
Central Florida consists of well-known cities like Orlando, Ocala, Lakeland, and Leesburg that have shopping centers and indoor/outdoor attractions designed for leisurely lifestyles. And if you love the beach, many of these 55+ properties are an hour or less away from the coast. Some are even built around lakes and most have on-site amenities like outdoor pools and clubhouses.
Keep reading to learn more about beautiful Central Florida's weather, attractions, and homebuying tips.
Why Is Central Florida's Weather So Attractive to Active Adults?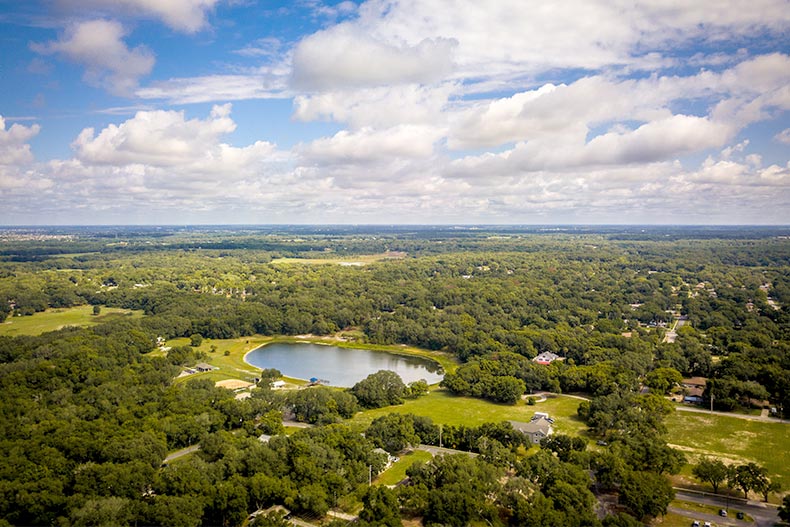 What climate does Florida have? Overall, the majority of its land is in the Northern Hemisphere's extreme southern portion. This means that it's part of the world's humid subtropical climate zone—the Caribbean islands also fall into this category.
Tropical Savanna Region
Florida belongs to the tropical savanna region which many refer to as the wet and dry tropics. State residents enjoy hot and humid summers and very mild winters, with more precipitation in those winter months. Those pleasantly warm days and comfortable, cool nighttime temperatures are a main draw for so many active adult homebuyers who no longer want to shovel snow or pay high heating bills.
Florida remains warmer than other states year-round because its climate zone is so close to the equator. But it's more than that: All of the warm ocean water that surrounds it creates high humidity and increases land surface temperatures. The Gulf Stream also runs through Florida, keeping easterly tropical winds moving across the southern and central parts of the state.
Average Temperatures
Its coldest month is January, when temperatures range from the lower 50s up north to the upper 60s further south. That's positively balmy when compared to wintertime in other places like New York or Chicago. Florida's hottest month is typically July, which ranges from 81-83 degrees no matter where you live within the state. Temperatures start to rise around April and heat up to their peaks during the summer.
Central Florida's Natural Beauty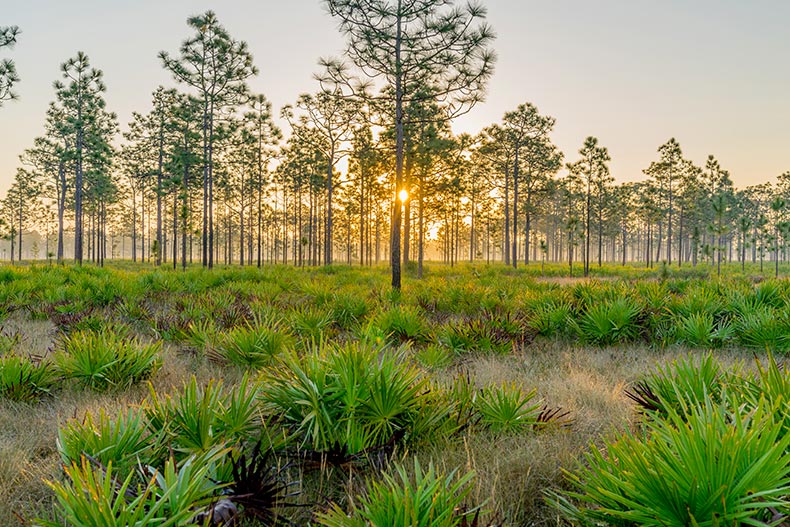 Florida has a wide variety of flora and fauna, including small pine trees and palm trees. The central part of the state is also home to water hyacinth, American lotus, and water lettuce. Further north you will find magnolia, oak, and other hardwood trees.
Native Animal Species
The state's bird is the mockingbird and there are about 30 species of duck, wild heron, and of course, coastal birds like pelicans and gulls. Small mammals like squirrels, rabbits, and raccoons are also common in the Sunshine State. It's also known for having reptiles like snakes and turtles, countless species of fish and shellfish, a variety of butterflies, deer, the red-cockaded woodpecker, and its bald eagle sanctuaries.
Thriving Ecotourism
Central Florida is also home to thousands of lakes, and ecotourism is thriving here. There are preserves; state parks; endless opportunities for fishing, boating, and biking; and dozens of private and public golf courses. Residents and visitors can also tour farms, go birdwatching, meet manatees, and visit the Florida Everglades. And with the temperatures hovering in the 50s and 60s during the winter, it's possible to enjoy these kinds of outdoor activities year-round.
Indoor and Outdoor Attractions
The winter can also be the perfect time to visit Disney World in Orlando, with or without the grandkids. Besides that, some of Central Florida's most-loved indoor and outdoor attractions include:
Glass-bottom kayak tours
Airboat tours
Jet skiing on Lake Buena Vista
Fishing on Lake Tohopekaliga
How Much Does It Rain in Florida?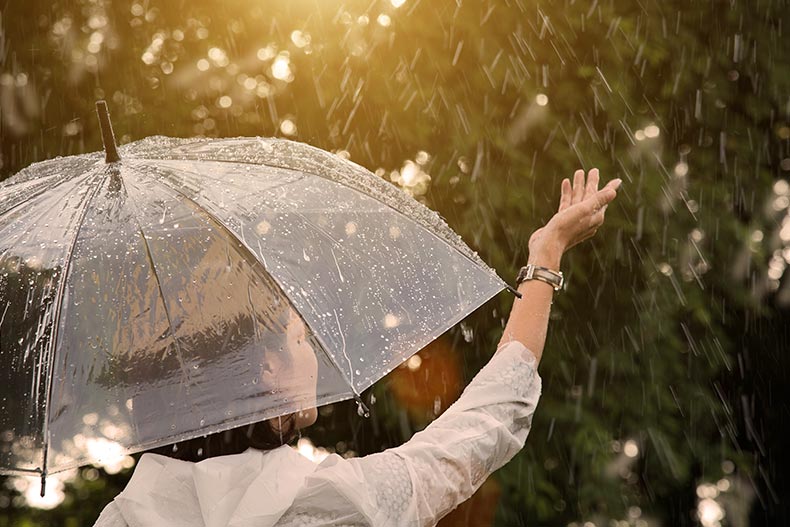 The State of Florida gets about 54 inches of rain annually, and this varies according to locale – the southeastern coast and Panhandle receive the most precipitation. The highest amounts are seen in cities like West Palm Beach, Miami, and Fort Lauderdale.
Average Rainfall
Central Florida sees slightly less, with 51 inches on average per year. Orlando, Lakeland, and Melbourne are amongst the wettest, with less seen in Bartow, Tampa, and St. Petersburg. In cities like these, residents experience 101 to 130 rainy days a year. There can be passing showers that last for 30 minutes or less or longer ones that drive people indoors.
Plenty of Sunshine
Florida is one of the sunniest states in the country, so you can expect to see about 75 to 130 days of full sun per year. Many of its cities get well over 220 days of full/partial sun a year, including ones in Central Florida. It rarely snows here and residents don't normally have to deal with freezing temperatures. The first documented snow happened in 1774 and since then, there have been traces of it in places like Jacksonville, Pensacola, and St. Augustine.
Small Chance of Flooding
According to the First Street Foundation, Florida's 1,833,341 properties have a yearly 1% chance of flooding. Areas located in floodplains are at higher risk—Lee and Palm Beach Counties are two that were mentioned. Cities like Orlando are at moderate risk for flooding but a $23 million project is in the works here to install new water pumps and deepen local water retention ponds.
Tropical Storms and Hurricanes in Central Florida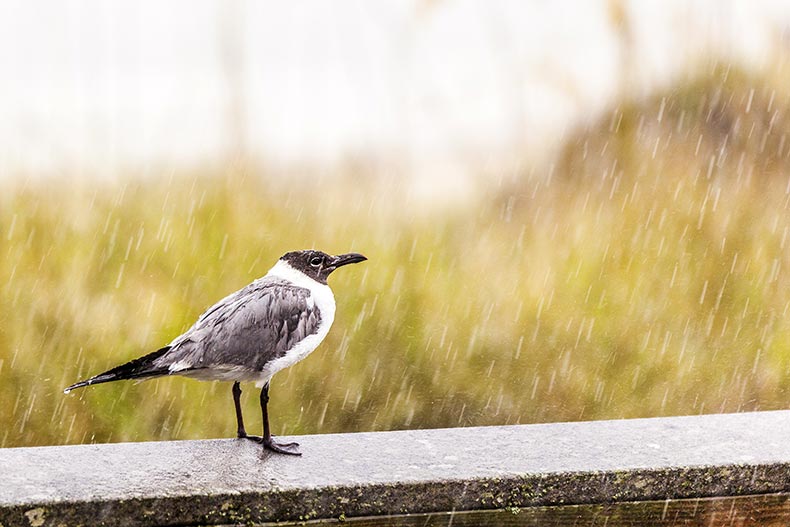 Just like the rest of the state, there can be tropical depressions, tropical storms, and hurricanes in Central Florida. The first category includes cyclones with winds of up to 38 mph; tropical storms have winds ranging from 34 to 63 mph and higher. A hurricane has 1-minute, sustained surface winds of 64 to 74 mph and major hurricanes come in at about 110 mph or more.
Bear in mind that the entire state of Florida can experience hurricanes, but the southeast coastline is the most vulnerable. Areas that are miles from the coast are not at high risk for direct strikes and usually just get strong wind gusts and heavy rainfall. Hurricane season begins in June and ends in September, with the greatest chances for a major weather event being from mid-August until late October.
Homebuying Tips for Central Florida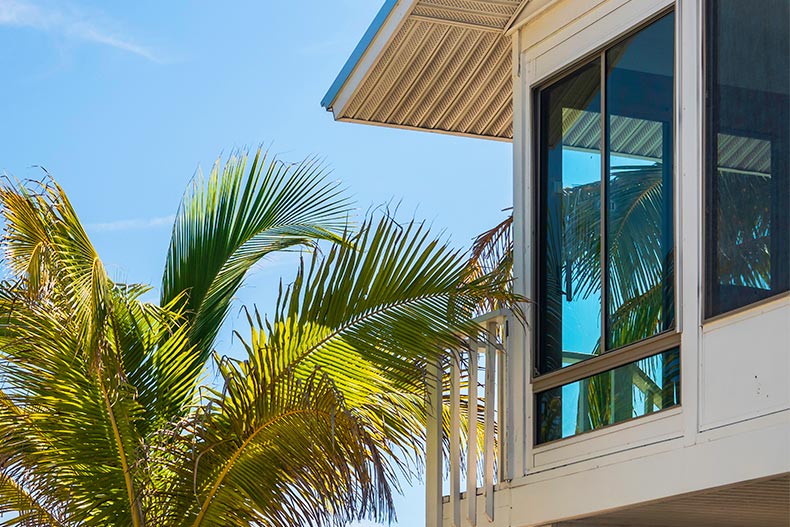 Florida home buyers have become savvier these past years and understand what shopping for a home in a subtropical climate entails.
Look for Weather-Resistant Features
When comparing properties in Central Florida, look for ones that have weather-resistant features like fiberglass doors, interlocking metal roofs, storm shutters, and impact windows.
Don't Skip a Home Inspection
Make sure that the AC is running properly when you buy the property—don't skip a home inspection, even though doing so is becoming common practice in today's real estate market. If the HVAC system isn't working properly after you move in, locating a contractor if it breaks down unexpectedly could be challenging
Check the Home Insurance Rates
You'll also want to check the home insurance rates for each property under consideration. Ones that are built in high-risk flood areas require additional flood insurance policies and Florida's homeowner insurance rates can be high.
You can get discounts for combining a homeowner and auto insurance package with the same provider and having flood-resistant home features like the ones mentioned above. And be sure to consider the home's selling price because many active adults spend less there to compensate for higher costs elsewhere.
Explore Central Florida Homebuying Options
Be open to exploring the options in Central Florida. The weather and scenic beauty are certainly alluring, and the risk of hurricane damage is lower since the properties are farther inland.
55places can help you find the perfect active adult community in Central Florida. Let 55places.com help you find the perfect active adult community in your ideal climate!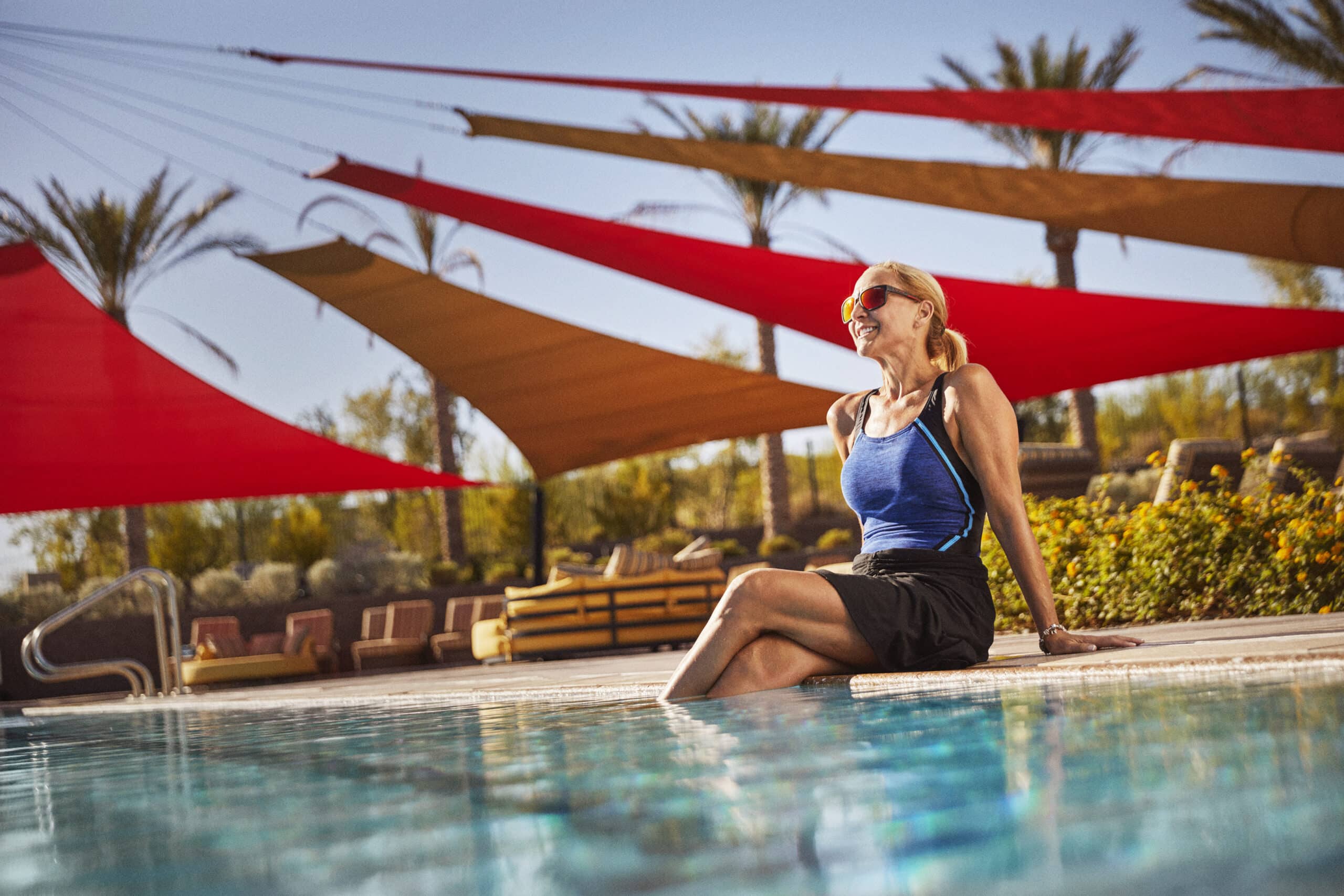 Discover what's next.
To learn more information or connect with a real estate expert, contact us today.