Florida is an ever-popular state for retirement, but which part of the state should you retire in? For outstanding beaches, ample golf, and all the boating, fishing, and nature that comes with coastal living, consider the Gulf Coast. Florida's west side has everything from shopping to professional sports and excellent restaurants. It also has a selection of desirable active lifestyle communities.
Whether you're a year or a decade away from planning for your retirement years, consider some of these cities along the Gulf of Mexico.
For Sports and Shopping... Retire in Tampa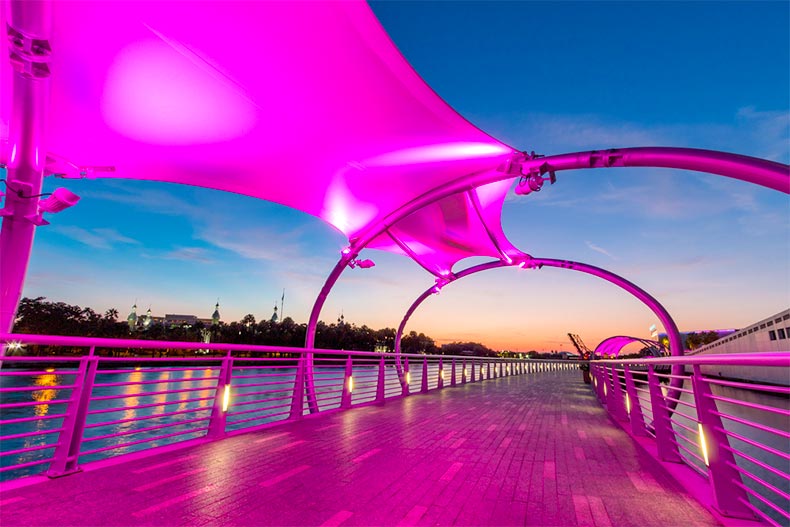 Tampa is part of Hillsborough County, which has a population of about 1.5 million people. It's a region that continues to grow, and some of the newest Tampa homes for sale are in 55+ communities.
Tampa is a modern, cosmopolitan city steeped in history. Ybor City is a historic neighborhood with cigar bars as well as Italian, Cuban, and Spanish restaurants. There's a wide variety of shopping and dining choices to be found at International Plaza and across the Bay in St. Petersburg.
Many people retire to Tampa for the sports. In addition to professional hockey, football, and regular season baseball, the New York Yankees have a spring training stadium close to downtown, and the University of South Florida is competitive in both basketball and football.
Buyers looking for Tampa homes for sale might consider the brand new Del Webb Bexley community just north of Tampa in Land O'Lakes or Sun City Center, a golf cart community with nearly 10,000 properties. Neighboring Kings Point in Sun City Center has an additional 5,277 single-family and attached homes.
Recommended 55+ Communities:
For Golf and Nature… Retire in Sarasota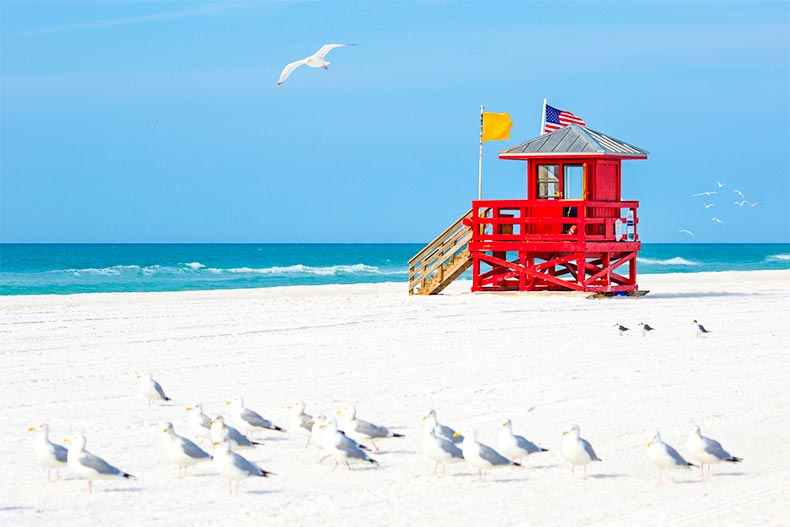 Sarasota is another excellent retirement destination, especially for active adults who love the beach, golf, and nature. Siesta Key offers the white sands and clear waters that people dream about when they think of Florida.
Great golf courses in the area include Bobby Jones Golf Club and The Groves Golf Club. Lovers of hiking, fishing, and wildlife will enjoy Myakka River State Park and Oscar Scherer State Park.
While looking for Sarasota real estate, consider 55+ communities like LakeRidge Falls, which has spacious floor plans as well as scenic lakes and waterfalls on the property. There's also low-maintenance condo living at Strathmore Riverside Villas, where residents can enjoy a private fishing dock, boat dock, and marina.
Recommended 55+ Communities:
For Sharks and Sunsets... Retire in Venice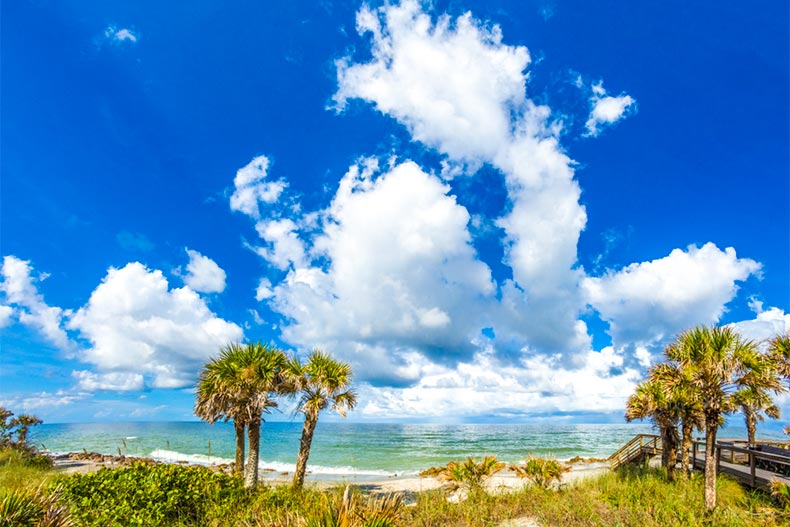 Active adults who want to be close to the beach should consider Venice and its 14 miles of shoreline. This city is called the "Shark Tooth Capital of the World" thanks to the teeth that are often found among the shells at Venice Beach.
The Venice Pier is a hotspot for fishing, watching sunsets, and relaxing with a cocktail at Sharky's on the Pier. Additional reasons to retire in Venice include the historic downtown area, low cost of living, and proximity to other Florida cities like Miami, Fort Myers, and Naples.
Homes for sale in Venice aren't as expensive as they tend to be in other Florida beach towns. Buyers interested in a 55+ community can look at Venetian Falls, where there's a putting green and a resistance pool. Also, Sarasota National is the best place to call home for golfers. Memberships at the Golf Club include access to an 18-hole championship course, men's and women's card rooms, restaurants, and pro shops. The community is not age-restricted, but it's an excellent choice for active adults who want to be close to the beach and Downtown Venice while having a golf course in their backyard.
Recommended 55+ Communities:
For Island Life... Retire in Cape Coral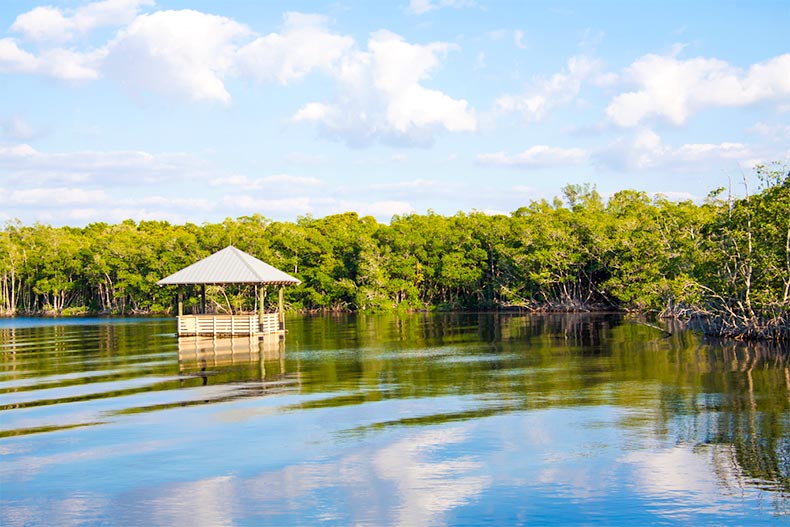 Sanibel Island and Captiva Island are just off the coast of Cape Coral. They're ideal places for shelling, sunbathing, and swimming in the Gulf of Mexico's warm, calm waters.
The Cape Coral community is perfect for people who want to spend their retirement fishing, boating, or watching migratory and shorebirds. All of those things can be done from the Sanibel Causeway and also at Lakes Park. On Captiva Island, take some time to look for manatees and dolphins, or do some snorkeling.
Cape Coral real estate has a number of opportunities for homebuyers. River Towers is a 55+ condo community offering views of and access to the Caloosahatchee River. In nearby Fort Myers, there's Pelican Preserve, a sprawling 55+ community that offers everything from softball to beaches, a golf club, and a 36-acre nature preserve.
Recommended 55+ Communities:
For Something New... Retire in Port Charlotte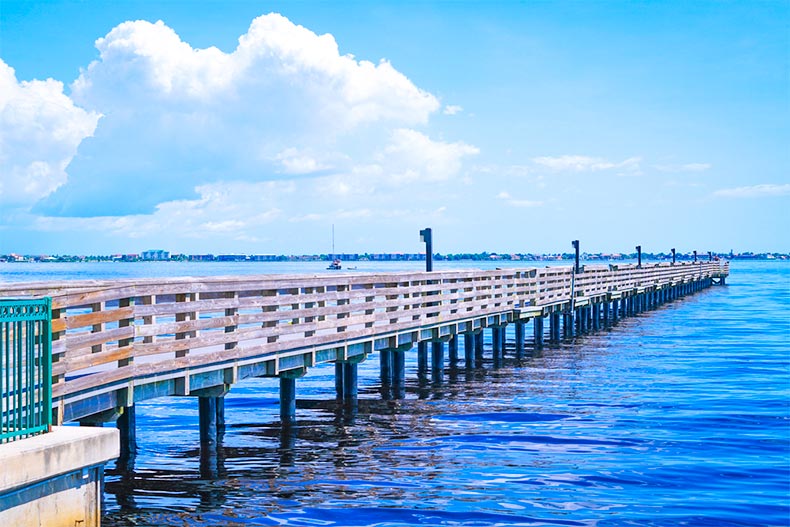 Not as well-known as some of the other Gulf Coast cities, Port Charlotte is an area in Southwest Florida that's really growing. Locals love it because it's where the Tampa Bay Rays have their spring training facility.
Warm Mineral Springs Park is close, offering spa treatments and a soak in springs that remain at 85 degrees all year long. Also, the high mineral content in the waters is said to have healing powers.
When it comes to homebuying, active adults will want to check out Riverwood, which is located on the wild and alligator-filled Myakka River. The community also has an eagle preserve and a bird sanctuary. There's also Kings Gate and its golf course, dinner theater, and 940 single-family and attached homes.
Recommended 55+ Communities: